Our part in your spiritual growth journey is to provide you with tools and environments to help you grow. The Breakthrough Life Discipleship Path does just that! Your part in your spiritual growth journey is to commit to the daily practice of private disciplines such as prayer, reading and studying God's Word, and acting in obedience to the instructions in God's Word.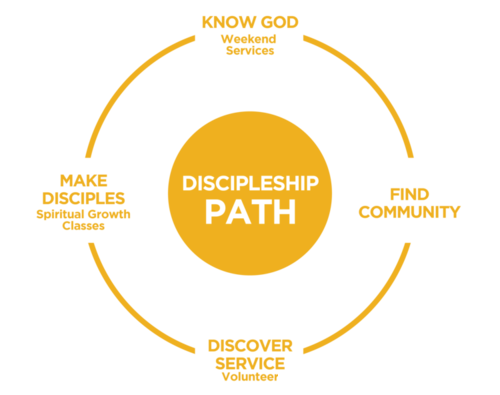 At Breakthrough Life Church, our mission is to Grow People Up Through God's Word to Just Be: Worship, Word, and Witness. Our discipleship path clarifies HOW TO accomplish this mission. The steps on the path are Know God, Find Community, Discover Service, and Make Disciples. #howtogrow
Know god
Weekend services
Our Weekend Services help you to grow by teaching you HOW TO have an intimate, personal relationship with God and walk in His will for your life.
Find community
Breakthrough Groups
Breakthrough Groups help you to grow in your relationship with others. They are a place to be known and cared for during life events.
DISCOVER SERVICE
VOLUNTEER
Volunteer opportunities help you to grow by using your talents and gifts to serve others inside and outside of the local church.
Make desciples
Spiritual Growth Classes
Our Spiritual Growth Classes help you to grow by teaching you God's Word and equipping you to share what you learn with others.